ArredoCAD - Virtual Exhibitions
The software for Virtual tours of Museums, Galleries and Foundations.
ArredoCAD allows you to create virtual tours of museums, art galleries, archives and libraries. The software offers a solution that puts technology at the service of art for the creation of permanent virtual exhibitions that can be visited every day of the year. Through an accurate reconstructing of spaces in 3D and the possibility of visiting museums online, anyone can access exhibitions at any time and from any place. Art and culture go beyond the limits of space and time to create new ways to experience art. A valuable chance to show works of art, masterpieces and artistic heritage that are often neglected or inaccessible. It also allows supporting and promoting areas of artistic interest with previews not limited by times or distance.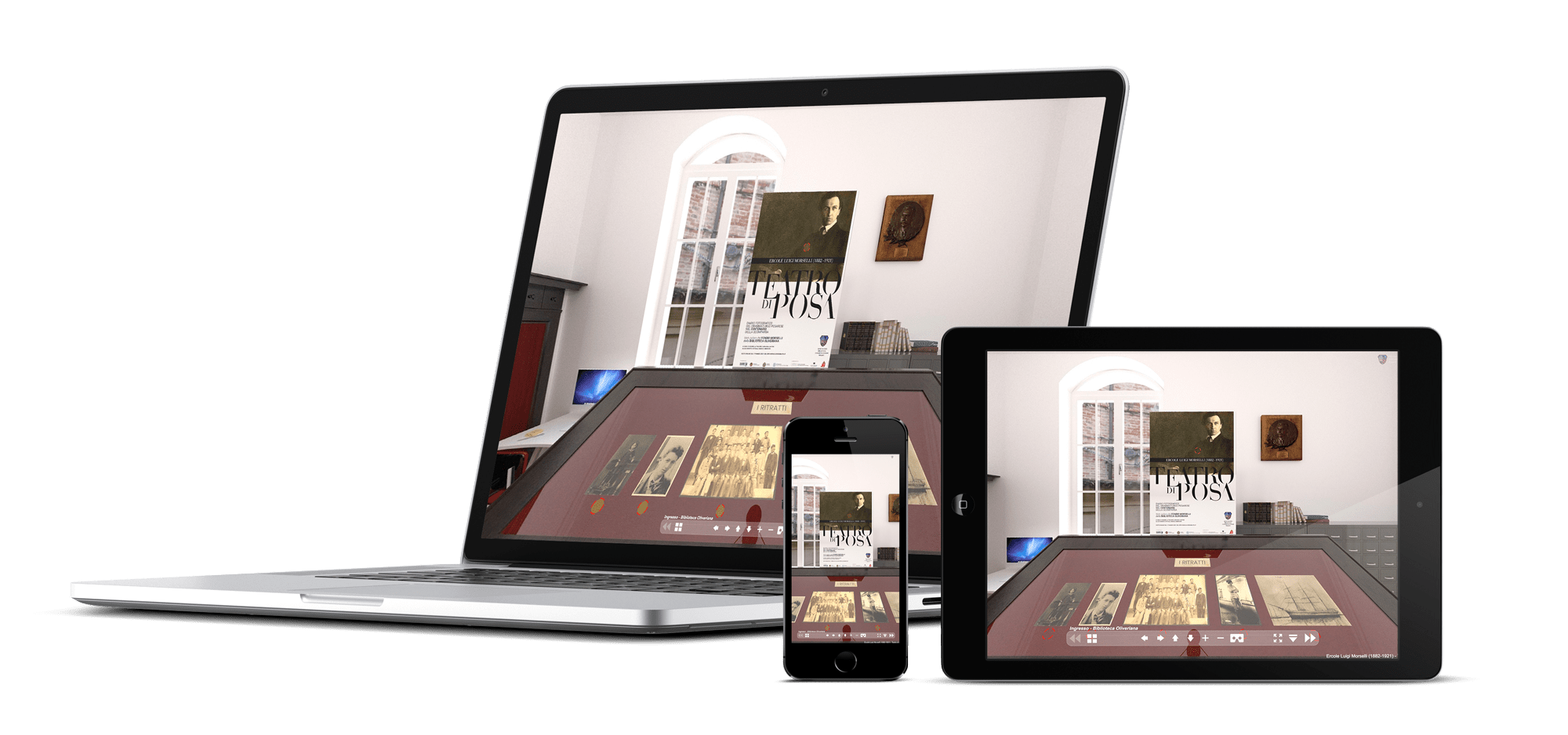 Now & Forever: the virtual gallery of ArredoCAD
Now and Forever is an ArredoCAD project that aims at promoting art galleries, museums, libraries and foundations through the creation of permanent 3D exhibitions and virtual museums. Thanks to the software potential visitors can experience digital tours of exhibitions and collections that are continuously updated. The virtual exhibitions can be visited and shared through links that can be published on any web page and that can be used from any electronic device, like a PC or a Smartphone. With ArredoCAD you will be able to take a walk through the museum corridors and rooms, linger in front of a painting to accurately observe any detail, interact with exhibits for a new esthetic experience with a 360° view.
Who is this service for?
Museums
Art galleries
Private collections
Foundations
Archives
Libraries
Art spaces
Personal exhibitions
Why create a virtual gallery?
1. To promote culture
Virtual exhibitions can enrich the experience offered by museums and highlight artistic heritage, from famous masterpieces to lesser known works of art. Culture comes closer and catches the attention of the public.
Thanks to ArredoCAD people can discover works of art and unique masterworks to be admired over time. The beauty of art displayed in galleries, collections and archives can fascinate people again as it deserves.
2. Make art always accessible
Visiting an online exhibition means going beyond the limits of place and time and allows more visitors to experience it, improving accessibility. Virtual museums have no opening hours or closing days and can be reached by anyone worldwide. People that have to stay home, can tour a virtual exhibition from their homes. An incredible chance to increase participation and stimulate interest and visits by word of mouth.

3. Let visitors experience the same magical atmosphere
When you cannot go to a museum in person, a virtual tour can offer you the same experience that becomes free and personal without the limits of time and place for a wonderful interactive trip. From extraordinary images at 360° to customized tours, from an online virtual tour to a visit to museums through the Virtual Reality with special visual devices. A new way to be "face-to-face" with art.
How does ArredoCAD Virtual exhibition work?
With ArredoCAD you just need to follow 3 steps to create a virtual gallery or a museum virtual tour. From visiting a solo exhibition to a tour of archives and libraries as well as exploring the most important museums, we create a 3D virtual tour that you can navigate online.

What do you need to create a virtual exhibition with ArredoCAD?
1. We need measurements and some photos of each of rooms in the exhibition. You have to send us the scanned images of paintings, prints, drawings or photographs and any texts to describe and explain characteristics and details.
2. We will then measure the spaces using photographs as well as furniture and the objects in the room.
3. With ArredoCAD we can reproduce spaces to design a 3D exhibition. Once exhibition rooms have been recreated and the 3D gallery with works of art set up, users can visit the online exhibition as if they were walking through the building.
In particular you can:
• View spaces reproduced with the Virtual Reality
• Visit the exhibition with a subjective point of view and a 360° view
• Moving from one space to the other following a customized tour
• Click on every work of art displayed to enlarge
• Click on documents and notes to read all the details
Find out some of the virtual tours of galleries and museums created with ArredoCAD
Would you like to create a virtual tour of galleries and museums?
Contact us for more information.