Designing a B&B – New ideas

When it comes to designing a B&B, finding a different approach compared to traditional ones can be quite demanding. Bed & Breakfast lodging establishments stand for coziness and hospitality and welcoming hosts. These facilities, although simple and informal, benefit best when close attention is payed to every smallest detail, carefully reflecting the philosophy of the accommodation. When choosing a style to furnish a B&B establishment, it is important to identify your customers and target specific characteristics that the home has to offer. Avoiding excessively elegant designs or dull ones is a start, however carefully selected details create a warm ambient that best reflect local traditions and that can make a lasting impression to your guests. Good hospitality does have some rules and necessities that stretch from working staff or host to facility layout requirements.
The best choice for the owner of a B&B is to be supported by a professional designer. According to current legal requirements, minimum surface for a single bedroom is 8 square meters and for a double bedroom minimum 12 square meters. Bathroom facilities for example have to be separate. Those of the owners are not to be used by guests and for every two bedrooms there must be one guest bathroom facility. Breakfast should be served in a cozy and spacious room shared by all guests.
Here you can see several 3D renderings on how interior designer Luciana Cavazza has planned and remodeled, to the required standards, an Italian country house where some apartments are used as B&B bedrooms.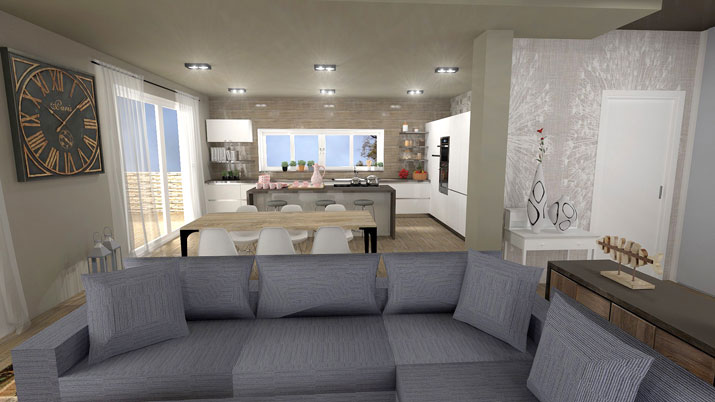 Luciana Cavazza has applied the neat idea where the kitchen and living areas continue to intercommunicate after remodeling so that the owners can chat with their guests while preparing breakfast, definitely adding on to the experience wherelocal traditionsand recipes are lived and shared. In the last ten years, more and more home owners have chosen to take on the experience of running a B&B, remodeling their homes or apartments, welcoming guests and embracing a way to increase their income. Regardless of the size, not every apartment is suitable to serve as a B&B.
The lay out of the rooms, the placement of the windows and the views are all important elements that make for a successful B&B business initiative. For example, if the apartment is situated in a central area, near local markets or other historical and cultural attractions, it has remarkable potential. An interior designer can highlight these important qualities, planning and optimizing the space according to current laws for tourism, transforming the apartment from a standard one to a distinctive accommodation for tourists and guests.


How to design and furnish a cozy B&B

Designing the interiors of a B&B is a task for professionals. It starts with a visit to the house or apartment where the interior designer can see the place, the neighborhood and speak directly to the owners. Together, they can begin to draft a detailed project on how to make the best use of the home in order to convert this private space into a proper B&B, in line with legal requirements and with distinct and attractive style.
Interior designers make use of ArredoCAD, a 3D interior design and rendering software, to study the luminosity of the apartment and create the first photoreal previews of the project which are then shown to the customer. The customer and owner of the B&B, can see in advance all the proposed and customizable changes to the apartment or living space, the layout of the rooms and how they will be furnished.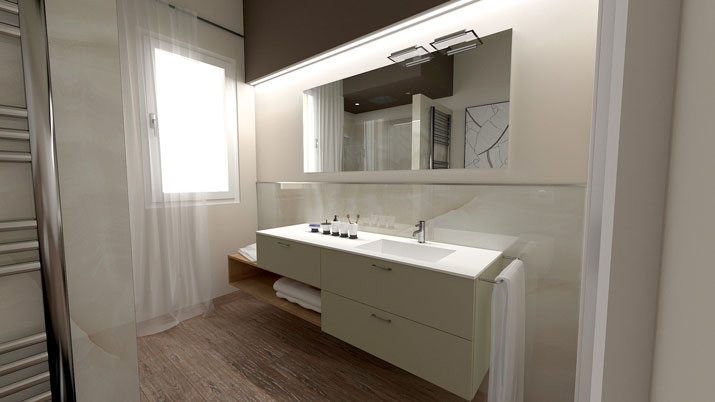 The goal here is to create a relaxing and comfortable ambient to reflect essential and functional furnishing and space modification. Depending on the location of the living space (country, city center, seaside, etc.) the new B&B can have different characteristics. It can be a range of particularities such as an open space with a window view, or a corner to relax in the living room or the kitchen where guests can read and plan their day. For a B&B in the mountains, setting up a fire place and a comfortable sofa would be a great particularity to create a warm homey feeling. Another thing to keep in mind is that natural light plays a crucial role, particularly when the B&B is located near the sea. Here is where the interior designer will make the best use of luminosity using light colors as well as making use of combinations of curtains, drapes, rugs and carpets. If the B&B is located in the historic centre of a big town, the interior designer will focus on reflecting and highlighting the benefits of these attractions. A reading corner can be set up in the living room, where the visitors can have a look at city maps, brochures and tourist tips. Decorations and pictures of local attractions, markets and landmarks add a vibrant touch and are always appreciated by guests and tourists.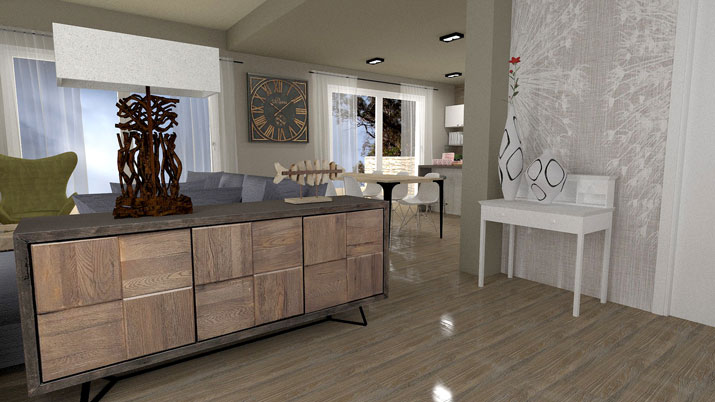 Professionalism at the service of the customer

An Interior designer specializes in space planning and furnishing in order to optimize the characteristics of indoor spaces, making them functional, safe and attractive by respecting the requirements and by selecting essential features. Luciana Cavazza, architect and interior designer, has carried out many years of work with passion and professionalism, maturing a long experience in the sector of interior design. She offers her skills and competences to make living spaces more comfortable and functional, increasing wellness and the quality of life of her clients. One of her most recent projects has been remodeling a B&B. According to Luciana Cavazza, when designing a B&B you need simple and functional designs. Under these guidelines, design items play a key role and make the ambient appear unique. According to this interior designer, walls can be painted in an original way, as if it were a canvas, giving a personal touch to the rooms. Furniture like sideboards, cabinets, end tables and so on, should be smoothly leveled when possible and the working surfaces should make the best use of natural light coming from the windows. The indoor spaces designed and furnished by Luciana Cavazza show a merge of modern style and contemporary flair. Furniture should be easy to clean since it needs to be cleaned and tidied up frequently, before and after each new arrival. All available rooms of a B&B should follow the same design concept in furnishing and layout when possible.
Interior designers can draw inspiration from the location and the nature of the B&B, adapting and reflecting these background particularities in a unique and attractive way. Due to the high number of people who rent rooms and B&Bs in touristic cities, the B&B project should have character and a charming flair, thus attracting the highest number of tourists. B&Bs stand for hospitality and they differ from standard hotels in many ways. This difference is not only in the number of rooms but also in the atmosphere that guests can enjoy while staying at a B&B. While hotels are formal and elegant, B&Bs offer a cozy and homey atmosphere where the common areas are shared. The role of the interior design is to tailor into the space design distinct professionalism and efficiency while keeping the familiar and cozy nature of the B&B. Mrs Cavazza's project is sophisticated yet simple and familiar. Her project renderings give the impression of being at home, surrounded by a cozy atmosphere, a place where guests can interact with other travelers and rest comfortably after new exciting experiences.
For more ideas and inspiration on how to design B&Bs, hotels, cafes, shops, wellness centers, malls etc. have a look at our Gallery and follow us on Facebook ArredoCAD Academy page.