Rendering textures and materials in an interior design project is essential to transmit an exact idea of the final result for your presentation to your client. The choice of a specific material or upholstery can influence the atmosphere of a space quite significantly. Furthermore, different textures and materials will have a different impact both from an esthetic and from a functional point of view. For this reason, it is extremely important for a client to be able to grasp the final effect when they are presented with the project. How can you effectively render textures and materials in your interior design projects?
The Importance of Choosing Early On.
Do not let the fact that materials and textures in interior design are considered finishing elements mislead you. When you are dealing with an interior design project, it is essential that you consider these aspects in depth from the very first phases of the project. By listening carefully to your client's requirements, you will be able to gather all the information you need to choose the best materials and textures. Often clients are unclear as to the options available for their furnishings, so you will have to inform them regarding the best textures or the most innovative materials available. It is important that when you select your proposals you balance esthetics and comfort while keeping in mind the targets of style and budget you have agreed upon with the client.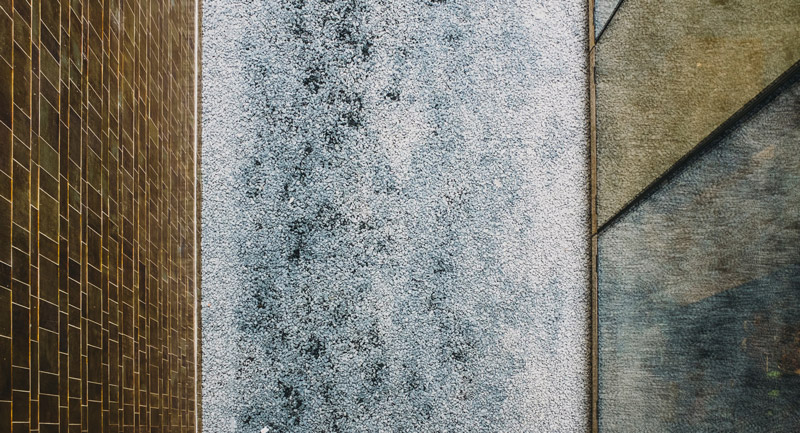 Materials for Interior Design: Natural and Synthetic Materials.
When working on an interior design project, the possible combinations of textures and materials leave ample space for creativity. When making your choice, it's important to remember that these elements will be working with other crucial features, such as lighting, furnishing details, and the way the space is arranged, without forgetting the color palette for the interior design of the space as agreed upon with your client. Furthermore, every material differs in availability, maintenance, and ease of installation, aspects you will need to consider when producing an accurate project. Among the materials most used in interior design:
Natural Materials for Interior Design.
Wood.
One of the natural materials for interior design that still seduces for its beauty and quality. Resistant, insulating and, last but not least, recyclable, wood is always a fashionable material for furniture, floors, and paneling.
Marble.
Marble is one of the most appreciated materials for the interior design of refined locations. The cost is undoubtedly high, but we are once again dealing with a recyclable material, the scraps of which are widely employed. For example, in the creation of sophisticated objects and details, or in the production of innovative materials for interior design when combined with different resins. Marble is also recommended as a top or a covering for refined pieces of furniture, or for unique floors and walls.
Glass.
Among the natural materials for interior design, glass is also always in fashion thanks to its versatility and its potential for being recycled. This is a material designed to provide light and levity, and it can be used in furniture or as an element to separate different locales with an ethereal and inclusive effect.
Natural stone
Not only marble, but granite, sandstone, and slate are some of the natural materials most suitable for interior design, thanks to both their elegance and their resistance. Natural stone, which can be used in any room of the house, is typical of several furnishing styles and has recently made a comeback thanks to its authentic and genuine allure.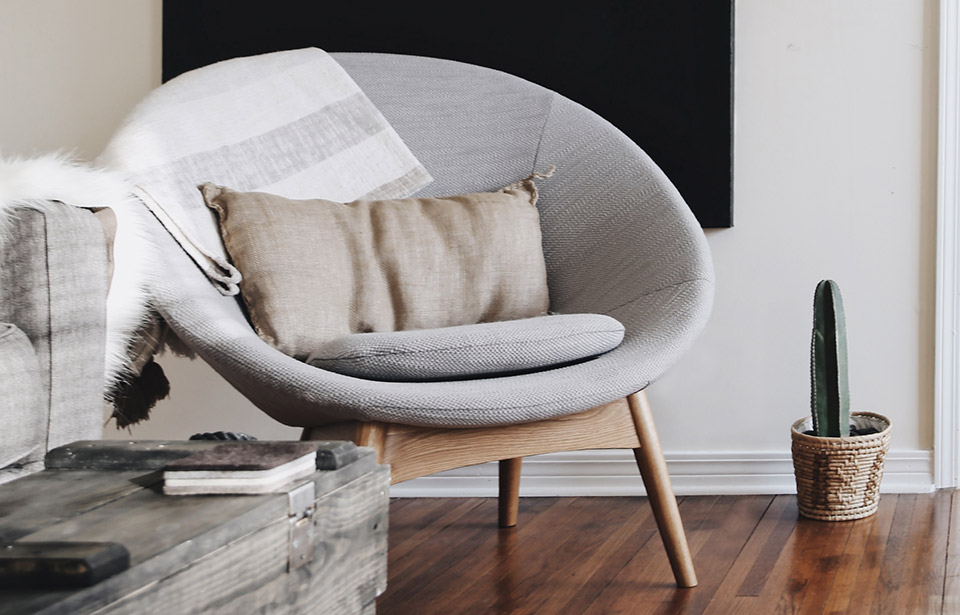 Synthetic Materials for Interior Design.
Porcelain stoneware.
This is one of the materials most employed in interior design thanks to its many possible applications, its high-class esthetics, and its uncommon durability. Often replacing marble, wood flooring, or metal, this is a versatile material resistant to abrasion and capable of absorbing very little water.
HPL (High Pressure Laminate).
A pliant, hygienic material that is easy to clean and has become established among the most innovative materials for interior design. It is particularly resistant, obtained by overlapping layers of Kraft paper and plastic materials.
Resins.
As they are synthetic materials, resins are extremely versatile, both in the use to which they may be put and in the variety of textures that may be obtained. Thanks to the possibility of creating vast homogeneous surfaces, they are widely employed for walls and floors. Furthermore, from an esthetic point of view, they can be used to obtain a variety of effects.


Wallpaper for Walls and Coverings.
Fallen into disuse for some years, wallpaper has also made a comeback in the area of interior design. Classic or contemporary, with patterns and motifs, it can change the entire appearance of a room, conveying balance and creating alluring combinations.



Textiles for Curtains and Decorations.
From natural textiles, such as hemp, jute, linen, and cotton, to the ample variety of synthetic textiles, these are essential materials for an interior design project. With an eye to the different textures, they can be used for curtains, upholstery and objects to create unique and very effective settings.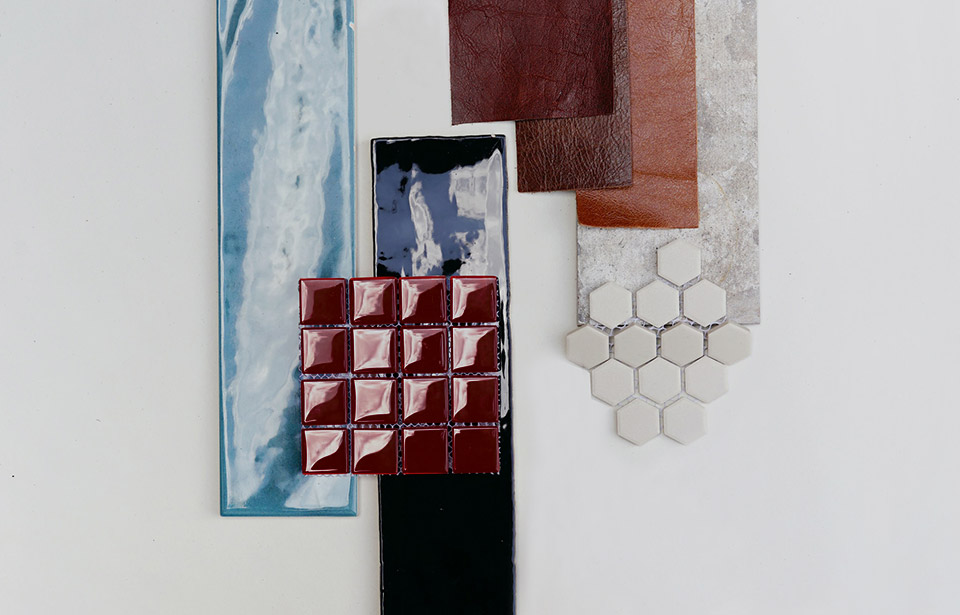 How to Render Materials and Textures Using a Mood Board.
Once you have chosen the materials and considered the textures, it's time to insert them in your interior design project. A first essential step is the creation of a mood board. This instrument will be very useful in conveying to your client the atmosphere of the environment you intend to design by bringing together materials, textures, and color palettes. A visual synthesis of all the elements that will compose your interior design project to bring out the resulting mood and the way the various components interact. You can use photographs, cut-outs, 3D renders, hand-drawn elements and other skillfully harmonized components in a collage. The purpose is to effectively communicate the concept at the base of the project eliciting an emotional response. ArredoCAD is an excellent instrument to create a complete digital mood board for your project.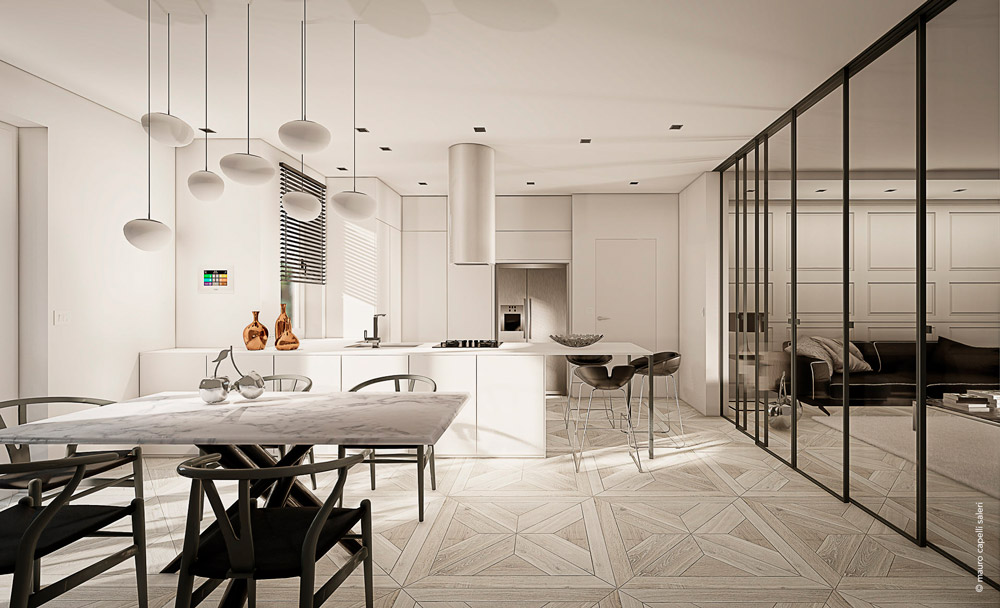 How to Render Textures and Materials in 3D Projects.
Aside from using a digital mood board or concept board, you will also have to convey the effect of the materials and textures you have chosen in the actual project itself. To do this, you will need a 3D modeling software with advanced functions such as ArredoCAD. In this case you will have several instruments at your disposal to create your project:
3D Library.
With a vast library of 3D furnishing elements which can be combined and modified, you will be able to create your project while exploring materials, textures, and colors. You will also be able to choose among many interior design options to personalize floors and finishing of each room you design. Among the many brands in ArredoCAD's library, you will find wallpaper by Glamora, Skinwall, Texturae, and Migliorino. But also tops and surfaces by Laminam, Fenix, Dekton, Silestone, and Okite or wood flooring by Listone Giordano. A vast array of catalogs from the best brands in interior design.
3D Rendering.
With ArredoCAD you will be able to quickly create high-resolution 3D renders to obtain extremely evocative previews of the environment you are designing. You will be able to insert the textures and materials you have chosen in your 3D project and adjust lighting and light sources to make them stand out.
RealTime Player.
For a more immersive effect, you can use the real time navigation function to let your clients move around the 3D render you have produced. Clients will be able to view the materials and textures you have chosen, interact with each piece of furniture and adjust the lighting for an experience of greater depth.
Virtual Reality.
If you want to surprise your client with a truly impressive preview of the project, you will also be able to employ Virtual Reality. All you will need is an Oculus Rift VR Headset for your clients to be able to stroll through your interior design project as if it were an actual space.
Visit our website to discover all of the functions of ArredoCAD and our specific courses on textures and materials for your interior design projects.