Interact with the new 3D player in real time and in high resolution

The long-awaited ArredoCAD 16.5 has been finally released and it will meet all users' expectations: the new 3D interactive Visualizer is going to revolutionize the way you present your interior design projects.
Developed by the programmers working at Dinamica Software from Unity, a pioneer real-time development platform, the new 3D Player allows to navigate in the scene in real time and in high resolution with no waiting time for rendering.




Interactivity is one of the main interesting aspects of this new version: with few clicks, users can open and close cabinet doors and drawers, rotate and move objects, modify material and light sources parameters (colors, exposition, balancing, width of cone angle) and visualize the resulting effects in real time.
Light management is one of the strengths of the new player: you can set sunlight and global light, direct spotlights on objects and walls as well as match a light source to an object. Moreover you can insert sounds during navigation (nature sounds, TV sounds and burning fireplace) and that offers you an even more amazing navigation experience with which you can plunge into 3D projects.


Amaze your clients with virtual presentations of your design projects

For those who have the additional Plug-in Virtual Tour, it is very simple to create virtual tours of entire apartments in few seconds. After visualizing your project with the 3D Player, with a simple click and no rendering time you can create 360° panoramic images of any room in high resolution (4096x2048).
For those who have already a visor for the Virtual Reality like Oculus you can plunge into 3D projects and interact directly with objects (like opening doors or moving objects) using the Controller.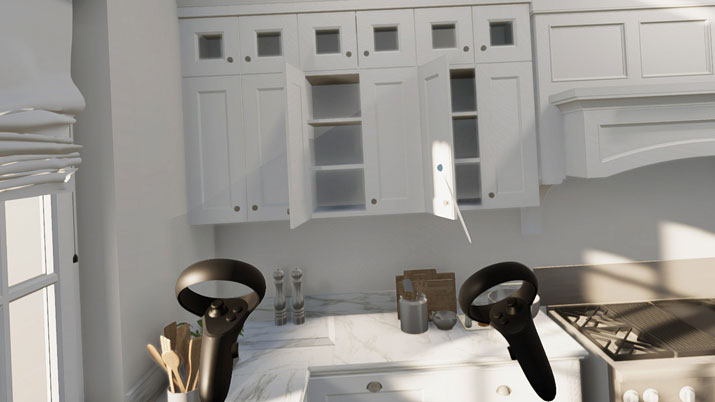 An increasingly vast elements library to inspire your creativity

Among the new elements added to the library you can find products of two important brands that have being close partners of ArredoCAD for a long time: Flou (about 40 new models of beds, design items and sofas) and Desalto (62 new models of tables, small tables, chairs and stools, available in different versions).
Besides you can use the new function to create openings for corner windows and corner French-windows, as well as the parametric wall-mounted pergola, fixed windows, parametric tubes for creating curved elements (like cabinet doors, mirrors, etc.), 28 new models of gas and electric cooking hobs and square trusses.
An increasingly vast library, regularly updated to offer you new inspiration for your projects.

Would you like to try the interior design software ArredoCAD? Find out all the new functionalities of the version 16.5: Request a 30-day free trial here.
Have you already used ArredoCAD? Update your version to the 16.5 and start right now to use the new 3D player! Contact us for a quotation: 0039 0721 26465 - [email protected]