The Virtual Furniture Showroom: The Next Frontier for Retailers and Multi-Brand Stores.
Captivate your clients with digital technology, from design software to 3D virtual showrooms.
What if your clients could experience the thrill of a perfectly furnished environment even before it was created? Or if you could show them, as if you were physically present, the effect of every possible choice of model or color available for each piece? All this without leaving their home. A 3D virtual showroom offers you this freedom, liberating interior design from the shackles of a physical space. It also proves a valuable instrument for multi-brand showrooms, making it possible for them to show clients how each piece of furniture can work in a specific setting. And it's an even more fundamental solution when physical presence is not actually possible, owing to time, distance, or safety measures, as we have so recently experienced. Here are some examples of what you can do with 3D virtual showroom software.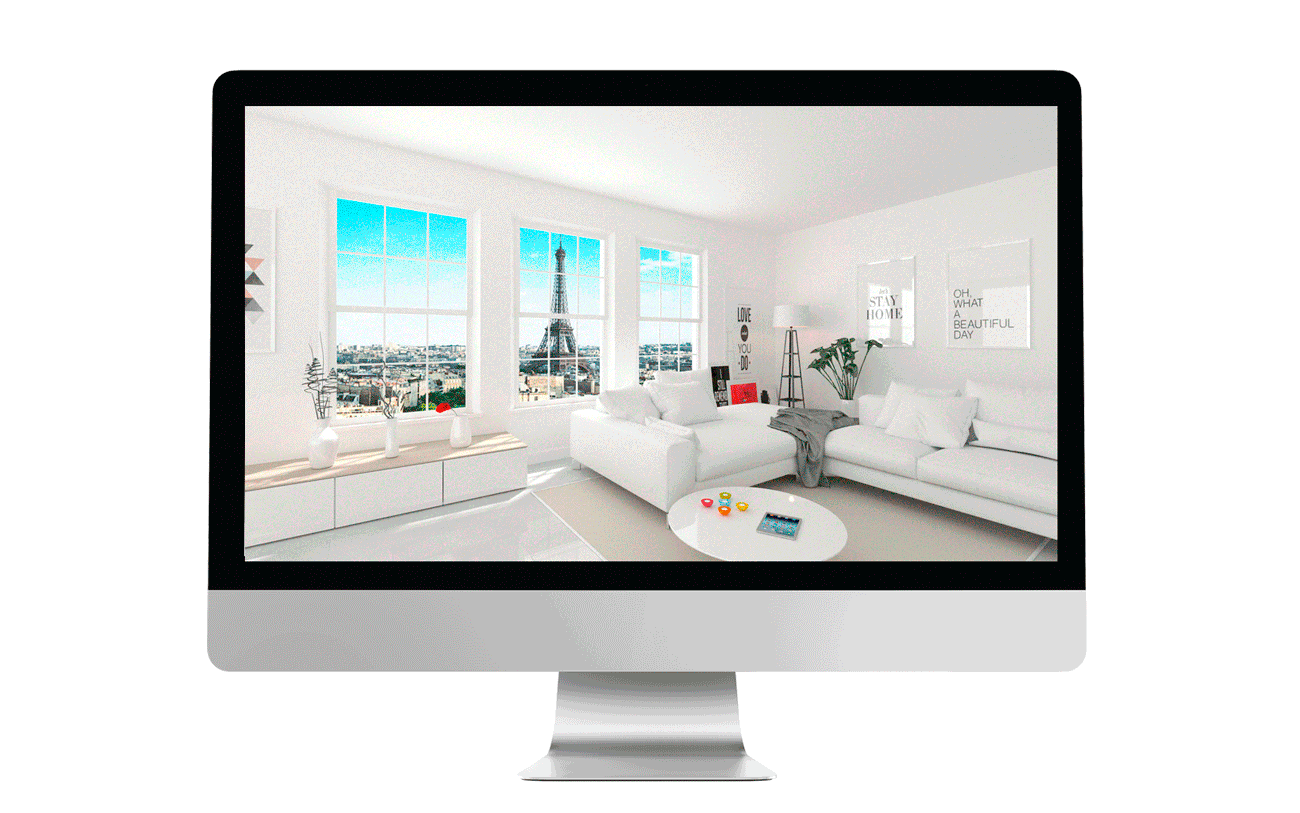 Why create a virtual furniture showroom?
One of the great advantages of digitalization is that you can perfectly illustrate even objects that do not yet exist. With a 3D virtual showroom, designers can present not only any project they have already produced but even potential ones, and with unprecedented effectiveness. Furthermore, multi-brand showrooms can present every model and variation available for every piece and anticipate new collections with no need for extra physical space.



• Meet your clients any place, any time.
There are no time limits when dealing with digital showrooms. Commercial and professional interactions with clients can take place with much greater ease any time it is necessary. This is an advantage for both professionals and those eager to view projects and furnishing solutions at their leisure. Furthermore, unlike a physical showroom, encumbered by requirements of proximity and accessibility, a virtual showroom is open to everyone indiscriminately. This makes it possible to tap into a potentially unlimited consumer base, able to experience the furnished environment even from many miles away.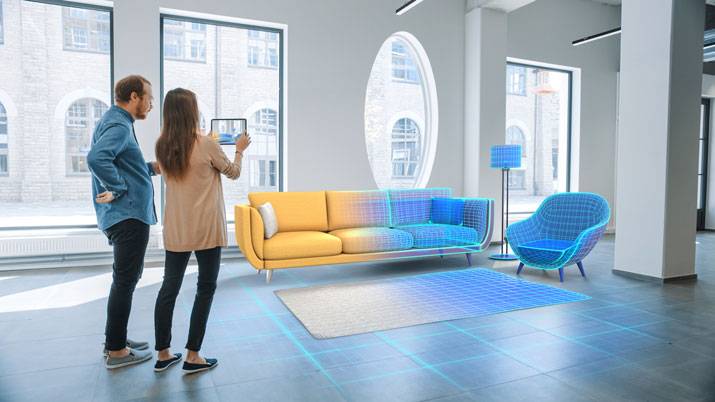 • Effortlessly apply changes and furnishing options.
Digital also means immaterial. If you need to apply changes to the project submitted to your client or to the furnishings you are presenting, a few clicks are all it will take to update the digital version. Unlike physical locations, which require transportation, personnel, and logistics, a virtual showroom is easily set up wherever and whenever it is needed.


Create customized experiences with a virtual tour of the furnishings.
In the furniture sector, the new frontiers of digital technology have broadened the horizons of client treatment, making for more immersive experiences that are sure to impress. Thanks to designing software and the use of technologies such as Real Time Player and Virtual Reality, opportunities for engaging your clients will increase. This is the case with the browsable presentations obtained thanks to the ArredoCad software, from 360° renders to the 3D virtual showroom with VR:

• 360° rendering: visit a location from any device.
Today, high-quality renders are an essential instrument to introduce clients to the final effect of an interior design project. A 360° evolution gives added value to the clients' experience, making it possible for them to navigate the rendered location. Thanks to ArredoCAD, designers can create 360° renders of different rooms and connect them so as to offer an actual tour of an entire apartment. This Virtual Tour can be shared on your social networks, uploaded to your website in the form of a presentation, or even shared as a link. With a simple click, your clients will be able to access the presented project and easily navigate the furnished locale. To best appreciate the final effect, they will be able to view the furnishings in their suggested arrangement from their smartphones or from their computer.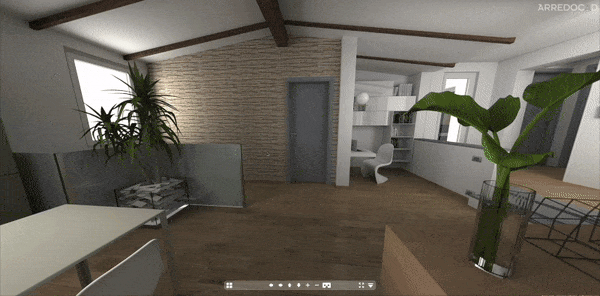 • RealTime Player: interact with the furnishings in real time.
RealTime Player adds interaction to the many obvious advantages of 360° rendering for an effective interior design presentation. In this case, clients will be able to navigate the renders you have produced for them and interact with the furnishings. They will be able to open the drawers, move the couch in the living room, or modify the intensity and position of the lights. Clients' experiences are no longer "passive": they will be able to actively contribute to the creation of the setting they desire. The experience will be "local," inside the boundaries of the program, but will allow a completely new level of depth.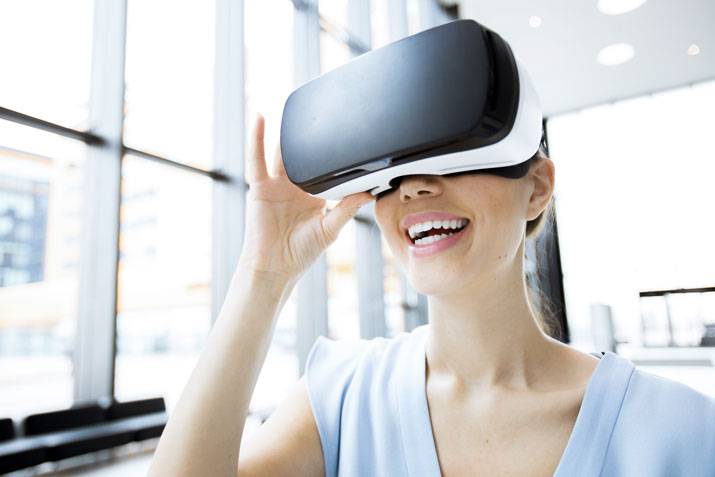 • Virtual furniture showroom: the Virtual Reality experience.
With virtual showroom software such as ArredoCAD it is also possible to "enter" the digitally created locations. All you need is a VR Oculus Rift headset to access the Virtual Reality experience and stroll through the project as if you were in a physical space. An exceptional innovation that makes it possible for clients to explore the layout of a location and experience the sensations it transmits as if they were physically present.


• Video-presentation: the entire project in a customized video.
The allure of the video format is undeniable, and this is why ArredoCAD makes it possible to produce an Mp4 video of your project. All you need to do is create your customized itinerary and the software will generate all the frames necessary for the creation of a video-presentation. This way, it will also be easy to share your project and upload it to all your social networks and websites.

Visit our website to discover all the opportunities offered by ArredoCAD for the creation of a 3D virtual showroom or the presentation of furnishings to your prospective client.