Kitchen with central island: a functional and creative design idea

The kitchen with central island has become an ever favorite popular option in the field of interior design. An island unit has a lot to bring to the kitchen design. They are versatile and modern, providing the ideal solution to combine esthetical and functional aspects. The list of advantages of having a kitchen with a central island goes on and on, since it is suitable for small spaces as well as big rooms. It allows the family to benefit from the available space beyond its functional aspects, creating an area where family and friends spend time together interacting and socializing. Moreover, island and living areas intercommunicate with the kitchen in a simple and natural way, a flow of the functionalities and a feeling of open space.
Nevertheless, when it comes to choosing a kitchen island, what makes a difference is good design and precise installation. A well-designed kitchen can transform a house in a dreamlike room. On the contrary, an ordinary solution can make the living space limited and miss out on its potential. Here are some tips and suggestions to design at best a kitchen with an island.


Planning and designing a kitchen with central island

First things first, you have to carefully think about what functions your island has to fulfill. You can use the surface for cooking and food preparation or as a sink for all the washing and cleaning. They do offer lots of storage for pots, pans and kitchenware. Islands can serve as a table for a quick meal, breakfast with family or drinks with friends. Islands can also be used as worktops when using the PC.
Keeping in mind the characteristics of the space, shapes and sizes of kitchen islands can be many. It can be small, square and central as well as long, thin and parallel to the worktop. It can be large and it can have a built-in sink or a cooking hob. It is really important to install sockets for electrical appliances like a mixer or a blender for your cooking time, but also for phone or tablet charging when using the island as a work station. Islands can have accessories with hanging elements, openings, drawers of different sizes to contain all kitchen tools so that they are right at your fingertips when you need them while your kitchen is always tidy.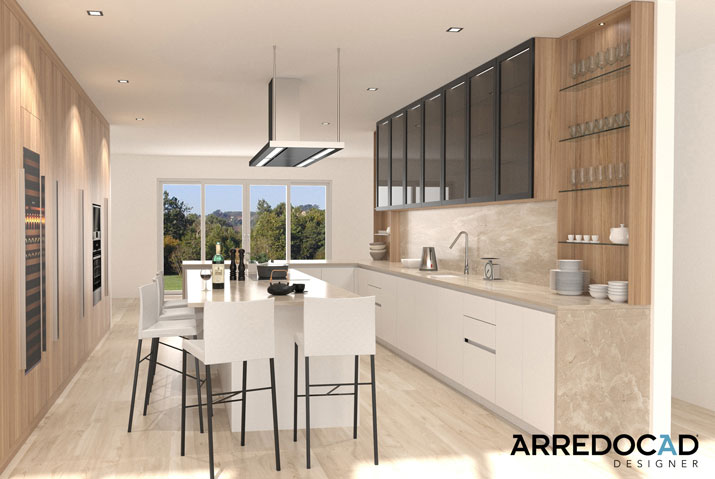 Combine your island with worktop and wall units

When it comes to choosing style and colors for your kitchen as well as to furnishing elements there are no fixed rules. Personal taste, the design style of the house and on the kitchen size are all interchangeable factors that can influence your decision. Same color can be used for the island, worktop, wall units creating a consistent and harmonious design and it can be complimented with accessories of different colors. If pastel tints have been used for the kitchen, you can choose kitchen stools with bright colors around the island. Items like this can be often replaced and changed whenever you are in the mood for something different.
On the contrary, if you opt for contrasting colors, a scenographic effect can easily be created. For instance, if all the base units, including those of the island, are white or crème - soft and fine colors - you can choose grey or a dark colored material, like granite, for the worktop. You can also go for a color like navy blue or green to create a shabby chic style. An elegant and attracting idea could be to decorate the kitchen island with colored tiles or tiles with decorative patterns to emphasise the space. Same decorative tiles can be used to decorate wall units, a part of the worktop or even walls.


Does a kitchen island need to be at the centre of the kitchen?

Kitchen islands are very versatile and modern design solutions. They can be positioned at the centre of the kitchen or slightly on the right or on the left. Central islands recall traditional kitchens where people used to spend a lot of time cooking and staying with family and friends. A kitchen island has many advantages, including moving freely all around and full use of it from every side. If a sink, a cooking hob or a worktop are built on the island, you can carry out various activities at the same time. Generally, one meter of space should be left between islands and base units fixed on the wall, so that you can move comfortably. It is important to follow proportion rules to have harmony and avoid an island that is too big or not spacious enough.
Kitchen stools and chairs are important additions to the area. It is advised to use a limited number of such elements and to choose suitable models in order to maximise space and most importantly, have free space. A professional can design a kitchen with an island that is part of a U-shaped furniture instead of an island kitchen, or even install it parallel to the worktop placed on the base units.


How to choose your worktop

The worktop of the kitchen island should mirror the design style of the rest of the room but at the same can be personalized to reflect the personality and the taste of those who use it every day. A good worktop should be functional, resistant and easy to use. A laminated or a wooden worktop is practical and ideal for those who love baking or cooking. In a modern kitchen, a marble or granite worktop can make for an attractive and elegant solution. These fine, elegant and precious materials are easy to clean, resistant and last but not least, very attractive solutions. A worktop made up of quartz is a good option for those who like to cook fine receipts difficult to prepare. Such a material is easy to clean and to preserve. It suits different design styles and it is easy to combine with other materials. The ceramic worktop is an interesting alternative, easy to clean, anti-bacterial and resistant to temperature changes. Moreover, ceramic is a decorative and versatile material, it can be enriched with ornamental patterns, an ideal option for creative personalities.


Islands and small kitchens

If you have a small kitchen do not get discouraged by the size of the space you have to work with. You can still have an island kitchen and maximize your space. Alternatively, a peninsula could also be a fit solution, for example, creating a versatile and elegant worktop similar to a bar counter with some functional kitchen stools. If there is a partition wall, peninsulas can be fixed on the wall. A suggestive atmosphere can be created with well-designed lighting solution in order to make the room look more spacious and give it depth. You can create the right atmosphere adding lamps or ceiling pendants with warm light over the island, details that make the kitchen cosier. Designing and furnishing a small kitchen is a fun process that concentrates on the details.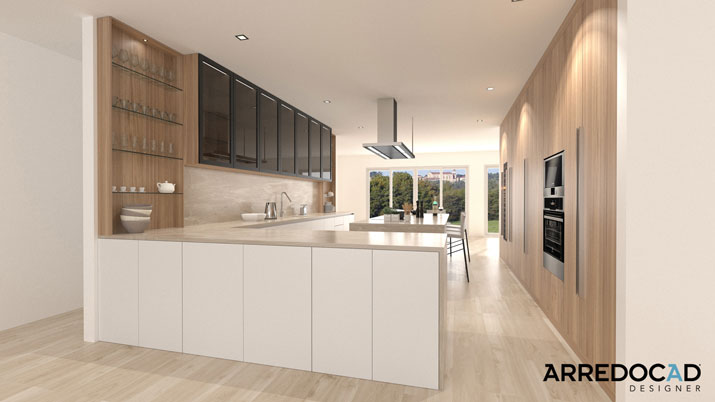 Create photoreal renderings with ArredoCAD software

ArredoCAD is the right tool for those who have to design kitchens. It is used by interior designers and producers for this aim for 20 years and a special version, ArredoCAD Kitchen, is available with more than 8000 elements for kitchen furnishing including worktops, unit doors, wall units and built-in sinks. Every item can be customized according to color, material and size to design any kind of kitchen, modern and traditional ones and reproduce the models of any kitchen manufacturer.
Interior designers can use the function 360° Virtual Tour and create fantastic high-quality photoreal renderings to amaze their clients by presenting an accurate and detailed design project. ArredoCAD is an advanced kitchen planner tool, intuitive and easy-to-use, that allows to design a kitchen in just a few minutes. Among the several functions there is the automatic insertion of household appliances, worktops, plinths and coverings. In the end, you can download a demo of the software for free to find out which the functions and features are to design your favorite kitchen.