A sustainable, environmentally conscious design is dominating today's furniture trends. The demand arises from a more mature awareness of the importance of individual choices for the overall wellbeing of the planet. Thus, eco-friendly furniture becomes the expression of a common aim, mainly among the new generations. According to recent studies, Millennials and Generation Z are the most inclined to invest in environmentally friendly products. Interior design must second and encourage this impulse with innovative solutions and sustainable furniture created through recycling and upcycling processes. Here are some of the furnishing trends that should be taken into consideration for environmentally friendly interior design projects.
Sustainable Materials for Interior Design.
When we talk about sustainable interior design, the first aspect you must consider is certainly the materials you will employ. Among the new trends for eco-friendly furnishing you will find materials both classical and new, the only requirement is that they be biodegradable, recyclable, or reusable. Among the most appreciated:
Wood.
Always considered a material of unique beauty, wood possesses many virtues, from its resistance to its insulating properties. Among the qualities of wood there is also its natural origin, especially appreciated in interior design trends for 2021. Of course, the wood must be FSC or PEFC certified, to ensure it comes from sustainably managed forests.
Marble.
A sustainable interior design may also include marble or other natural stone. These long-lasting, reusable materials convey a sophisticated air to any environment. Their scraps can be used for the creation of refined, eco-friendly decorative elements.
Glass.
Glass has made a huge comeback in the era of sustainable interior design. Delicate decorative panels, elegant colored tiles, impalpable glass doors abound in the new trends of eco-friendly furnishing. Easy to clean glass elements are available in many variants: transparent to favor the passage of light, or sanded, glazed, and colored for a more intimate atmosphere. These are all effects you will be able to include in your interior design projects thanks to a 3D design software, such as ArredoCAD, that makes it possible to edit materials.
Bioplastics.
Plastic certainly doesn't enjoy the best of reputations when it comes to environmental impact. However, innovative bioplastics born from recycling processes can be transformed into sustainable and contemporary furniture. State of the art engineering plastics that combine esthetics and a care for the environment are employed by a more rational and aware interior design.
Aluminum.
Extracted from bauxite, aluminum is resistant to oxidation and corrosive processes. Furthermore, it is infinitely recyclable, preserving its lightness and resistance. For this reason, aluminum is also widely used in eco-friendly interior design, mainly for industrial purposes, though not for insulation.
Natural fiber textiles for Eco-Friendly Interior Design.
Textiles, too, follow the trend of sustainable interior design. Natural fibers are used for seats, rugs, and curtains in a newly discovered green allure. From hemp to jute, from linen to cotton, sustainable furniture becomes enveloped in nature.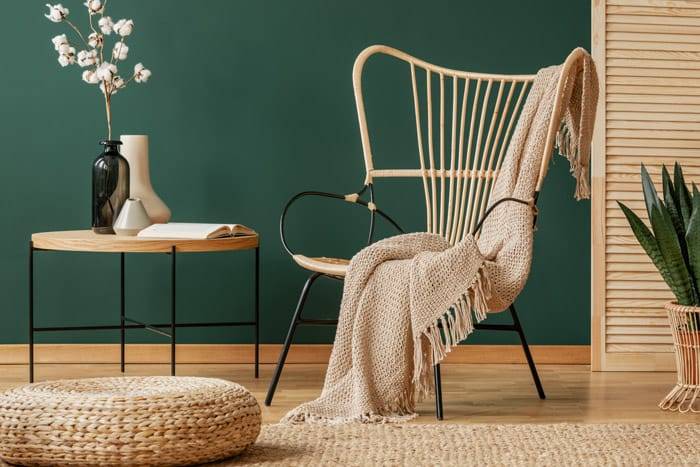 Technology at the Service of Sustainable Design.
Sustainability also implies the wellbeing of those who inhabit a space. This is the case with work environments, where many people spend most of their days, but it is also true of home interior design. The aim of Biophilic Design is to improve the balance of body and mind by creating a new harmony between nature and the urban environment. Technology comes to our aid with increasingly innovative devices to regulate temperature and lighting, reduce noise pollution and improve eyesight, possibly by making better use of the natural lighting or enhancing it by using effective colors.
Eco-Friendly Sustainable Furniture in Interior Design Projects.
Undisputed protagonist of environmentally friendly interior design, sustainable furniture is the new trendsetter. It can be created from upcycled materials, modified to convey new sensations, and designed to last and save money. Houses rediscover the power of recycling and are filled with furnishings made from natural materials, used furniture brought to new life, and accessories with a sustainable design. Comfort and endurance are the values that must be pursued to favor habitability and respect of the environment.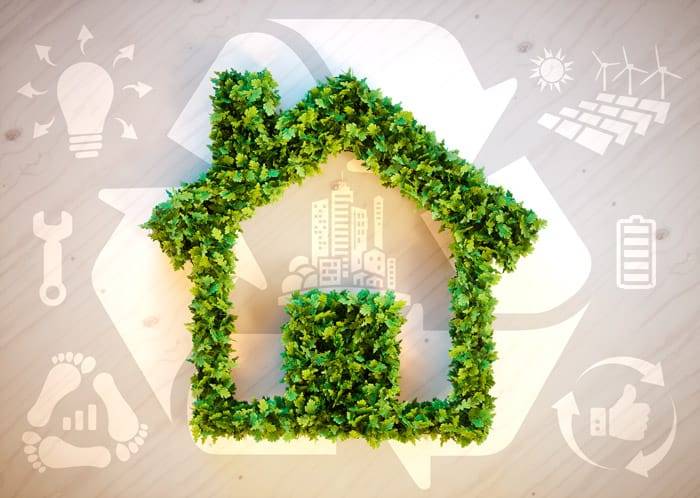 Upcycled, Recycled, and Functional: The Formula for Eco-Friendly Furniture.
Thus, furnishing is no longer just a question of esthetics and comfort. The harmony of a space is linked to the relationship between man and nature. Wastefulness must be avoided at all costs by optimizing surfaces and energy consumption, and choosing to reuse rather than to discard. This is a new way of conceiving design, but also of experiencing and enhancing it. For several years now, the main brands in this area have been focusing their research on the development of eco-friendly materials and furnishings. All interior designers must thus adopt a new, more sustainable conception of interior design.


Design Your Sustainable Project Thanks to ArredoCAD's Functions.
ArredoCAD Designer is an interior design software with a vast library of 3D furnishing elements for the main design brands. You will find sustainable furniture as well as materials for coverings, floors, textiles, and accessories, which you can modify based on your needs. Aside from the many wood, metal, marble, and textile textures present in the library, you will easily be able to import all kinds of textures in jpg, bmp, or png format. The software supplies you with all you need to professionally design eco-friendly environments in every detail. Furthermore, you will be able to manage the optimization of the spaces and the arrangement of the lighting, and in a few minutes you can obtain a high-resolution 3D render of your project. For example, you can create all kinds of natural or artificial lighting effects and produce previews of the colors chosen for the furniture and of the organization of the spaces to better evaluate the project as a whole. You can use 3D previews, virtual RealTime tours of the project, and even Virtual Reality to introduce your clients to your eco-friendly designs.
Visit our website to request a free trial and begin working on your eco-friendly interior design project now.