Want to be successful in freelance interior design? Marketing is key, and designers have to do more than just get their names out there. Experienced designers know that their success relies upon their reputation, what they're known for and the impressions they make to potential clients. Getting their best work in front of the people who will appreciate and feel drawn to hire them takes a carefully cultivated strategy of timing, placement, and appearance.
Fortunately, many tools exist to help interior designers accomplish exactly that. From sophisticated 3D rendering software such as ArredoCAD to portfolio sharing platforms like Houzz, interior designers have an array of tools and techniques at their fingertips to make marketing easier than ever. A savvy marketing strategy lets interior designers connect with clients, showcase their creative brilliance, and spend more time doing what they do best: creating amazing spaces.


4 Reasons Why Interior Designers Need Marketing

A well-designed room speaks for itself, and few industries create such an experiential product as interior design. With a product that inspires all five senses, it might be tempting to allow it to speak of a designer's skill and experience without additional input. As a result, it can be easy to overlook the need for marketing – especially when a designer is accustomed to developing highly trafficked spaces.
However, marketing is about much more than just sharing Instagram posts of beautifully designed spaces. Like other professions, marketing remains critical to the success and survival of an interior designer. Here is why – plus a few tips to get started.


1. Interior Design Is a Creative Profession

Like other creative professions, differentiation is key. Marketing is an opportunity to define what sets one designer apart from the next. Since so much depends on an interior designer's unique style, marketing is necessary to show potential clients what could be in their own space. Savvy interior designers use their marketing strategy to:
• Define a style and focus. Draw clients with a creative vision that inspires them.
• Showcase innovation. Transform spaces with a distinct perspective that delights.
• Reflect an awareness of trends and philosophies. Indicate a dedication to remaining up to date and in tune with the industry.
Get started: design appealing, unique collections that showcase a unique style while inciting curiosity to learn more about the firm or designer's specific approach.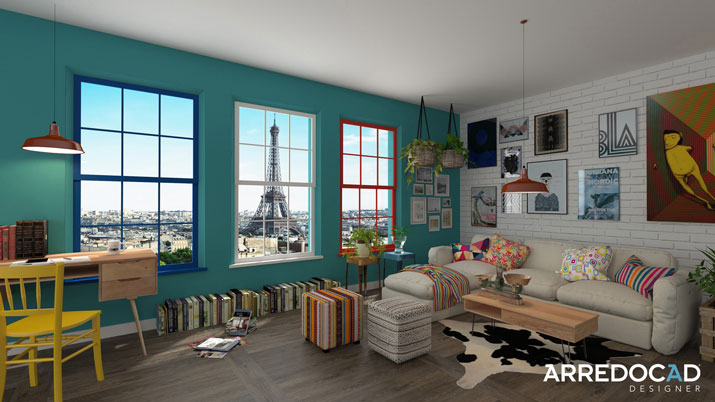 2. Marketing – Like a Designed Space – Is an Interactive Experience

Marketing done correctly isn't a one-way expression of ideas. It's a dialogue that encompasses a user's thoughts, feelings, and interactions with a brand. It invites a person to not just learn about an interior designer's unique style or design philosophy but to also experience it.
Since interior design already creates an interactive product by nature, marketing is an especially powerful tool. Well-done interior design marketing should:
• Capture the look, sounds, and vibe of a space using a variety of media like pictures, audio, and video.
• Create avenues for conversations with current and potential clients in the form of questions, advice, or other direct communication.
Get started: Create materials that inspire interaction. For example, encourage idea seekers to reach out and ask questions, or which are easy to share across multiple platforms.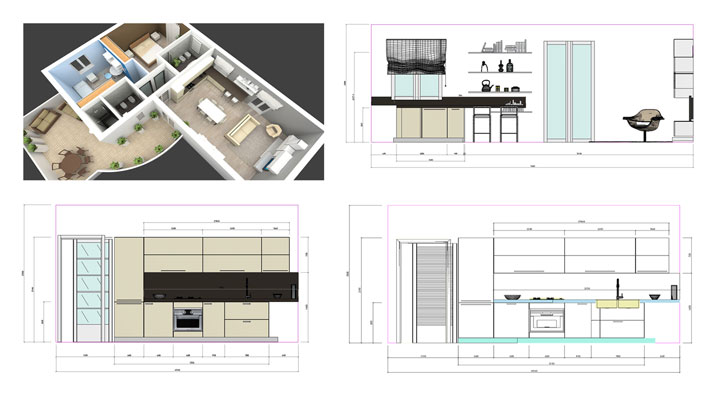 3. Community Ties Drive Business

Marketing isn't just an interaction between a designer and his or her target audience. It can also be a vehicle by which an interior designer connects with both the local and the wider community. A marketing strategy can:
• Include reviews and recommendations to help build credibility and thought leadership.
• Inspire collaboration with local businesses that complement interior design.
• Bolster word of mouth advertising by getting people talking.
Get started: Connect with professionals in complementary industries with whom there is a history and gather reviews, testimonials, or reciprocal linking.



4. Reputation Management Is Crucial

Interior design firms live and die by their reputation, making brand development and reputation management critical to remaining successful. With interior design, marketing is an opportunity to take control of what associations are made with a brand because there is such a thing as bad publicity. Marketing for interior designers helps:
• Control what comes up in Google searches of a company or designer name by optimizing keywords and content.
• Spread awareness of community involvement, core firm values, or unique value propositions.
• Reduce the impact that negative associations spread by competitors will have on a designer's career.
Get started: Strive to deliver value for potential and current customers by creating resources people can use. It can be as simple as thought-provoking ideabooks on Houzz to as elaborate as tutorials for home décor.


Make an Impression: How ArredoCAD Helps Designers Stand Out on Houzz

Marketing is incredibly important for freelance interior designers and inveterate design firms. However, finding the best way to go about it can be tricky. From choosing a platform to the tools for carrying out a strategy, interior designers have a lot of options.
Many – if not most – interior designers use Houzz, a portfolio site oriented towards home improvement professionals. By creating a professional portfolio on house using drafting software like ArredoCAD, interior designers can make powerful impressions that grow their business. Here's how to use Houzz for interior designers, and the best practices which ArredoCAD supports.


What Is Houzz?

Many people find their home interior designers with Houzz (pronounced like house), a site widely regarded as "the" social media platform for home improvement professionals. All interior designers – whether freelance or working for a firm – can and should create a portfolio on it.
Houzz works like LinkedIn. It allows interior designers to create portfolios, list their contact information, connect with other professionals, and target their audiences with keyword-driven content.


Why Use ArredoCAD for a Houzz Portfolio

Interior designers need marketing to grow their business, and using ArredoCAD for a portfolio on Houzz can help. Such software can:
• Create a unique, professional presentation. Making a professional first impression is critical for enticing potential customers. Don't rely on low-quality software to produce generic, imprecise images. Render the perfect visuals for promotion the first time.
• Fine-tune a style and creative vision. ArredoCAD offers one of the most expansive furnishing libraries in the world, with over 30,000 3D elements for modern and traditional environments. That's plenty of space to develop a unique style that catches the attention of clients.
• Make it easier for customers to understand plans. Using 2D floor plans with elevation markings reveals competency as an interior designer, but they can be hard for clients to visualize. ArredoCAD lets designers easily provide visuals to complement their technical expertise.
• Keep portfolio development efficient. Still drafting by hand? Hand rendering is an art, but CAD software is so much faster. Save time and energy by deploying ArredoCAD to take over the tedious details.
• Showcase multiple designs and floor plans easily. CAD software makes it easier to compare alternative designs and explain why one design was chosen over the others within a project. It also makes building ideabooks faster, which helps to attract potential clients who are looking for ideas.
• Get the best of Italian interior design. Augment a portfolio with the best tendencies and trends in interior design. With a special collection of famous Italian designer brands, ArredoCAD can help reflect the quality of services an interior designer or firm provides.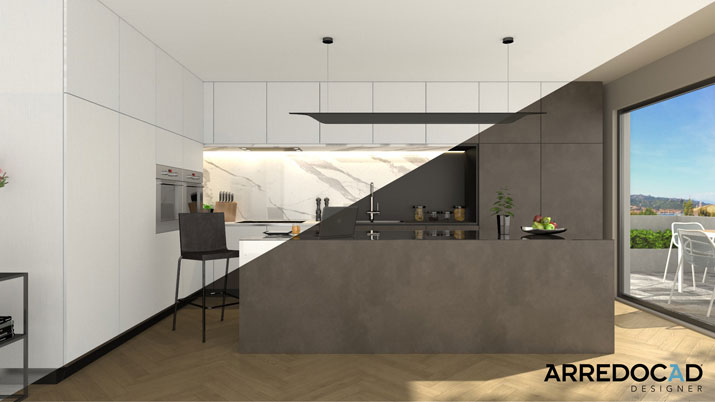 Interior Design Marketing Done Right

Ever wondered what the secret is to a successful interior design business? A strong marketing strategy. It's not enough to produce stunningly designed homes or professional spaces. In interior design, marketing drives exposure, awareness, and new clients through the door.
Rendering software, like ArredoCAD, is perfect for creating eye-catching, thoughtful visuals. Use it to capture the unique style, professional competence, and creative innovation that signals a seasoned interior designer. It's the ideal tool to complement the tactics of a strong marketing strategy that leads to success.
Put ArredoCAD to work to create a truly bespoke portfolio that inspires, delights, and entices new business. Start a conversation with us today to discover how our software can take your Houzz interior design portfolio to the next level.