The complete guide for the creation of a perfect Interior Designer portfolio for every occasion.
It doesn't matter whether you're just starting out or you already have experience in this field. Creating an excellent Interior Design portfolio is of the utmost importance in either case if you want to present your work effectively. A portfolio is an oft-neglected instrument, one you worry about only when a client or a potential employer asks to see it. This is a serious mistake, because the result obtained by piecing together a portfolio in a hurry will certainly not do justice to your work. Thus, our first recommendation is to create one as soon as possible, giving it all the attention it deserves, and then bring it up to date as necessary. This said, how does one go about creating the perfect Interior Designer portfolio? As you may well imagine, there is no single, rigidly imposed system – you are, after all, in a creative line of work. However, there are some fundamentals that will help you obtain a truly effective portfolio. Let's consider them one by one.
1. Define your Portfolio's target.
It may seem odd, but a portfolio is not a rigid object that is good for every occasion. It is a kind of business card, in so far as it presents your professional profile, but unlike a business card, it is not indiscriminately suited for everyone. For example, a portfolio designed for a potential employer looking to employ you in their studio will not be the same you show a client who intends to hire you to work on a specific project. These are distinct individuals, interested in different information regarding what you can do for them. This doesn't mean you can't have a couple of models on hand, based on the use you intend to make of them. In particular:
Interior design portfolio for a potential employer.
In this case, the studio to which you are introducing yourself will want to know about your formative background and your present skills. Thus, your portfolio will have to include your studies, your skills, and the instruments and programs you have mastered. Possibly including specific examples of what you have created with these instruments, including the technical specifications of a project produced using dedicated software.
Interior Design portfolio for a client.
If your target is a client, rather than information about the tools you can use or your studies, they will want to know about your style and how you work. In this case, you can present the evolution of a project from beginning to end, with photographs of before and after. You can produce realistic 3D renders of potential projects and arrangements, using software such as ArredoCAD to show your client what the final result might look like. You might also want to add ideas and hand-drawn sketches to illustrate your design philosophy. We recommend you show your client projects as close as possible to their requests. They won't be interested in the overall scope of your skills, what they want to know is how you can help them.



2. Focus on your objectives.
Once you have defined your target, it will be easier to pinpoint the objectives of the portfolio you are creating. Aside from what we have already covered, such as proving your experience or communicating your personal skills, a good Interior Design portfolio should always be:
Evocative.
With your portfolio you are not only showing your work, but also proving you are capable of creating pleasant and exclusive interiors that give an impression of wellbeing and livability. Someone leafing through your projects should be able to imagine themselves immersed in the atmosphere of each location. This is why a carefully crafted mood board, accompanied by high-quality photographs and renders created using 3D interior design software, can help best convey these emotions.
Creating a mood board is the best way to evocatively convey atmospheres and settings. The portfolio may also include the palette of the colors you use in your projects, the textures and materials you have chosen, and the textiles best suited for the proposed furnishing style. With ArredoCAD you can choose color, finishing, and style of every element so as tocreate an evocative setting.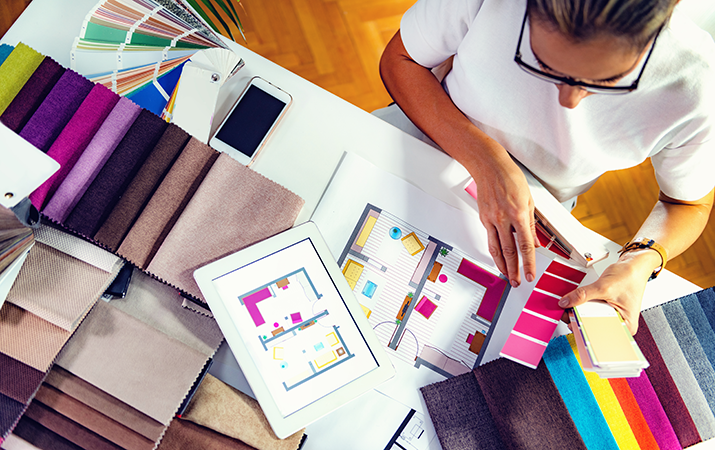 Professional.
No matter how important or successful your projects are, if the portfolio you use to present them isn't professional, you will convey an impression of disorganization and unreliability. So make sure you produce a well-structured portfolio, with images in high definition and photographs taken by a professional photographer. You should also pay attention to the graphic layout and use a design suited to the projects. Once again, using specific software will come in handy, allowing you to create a well-organized portfolio that puts great care in every detail. In any case, once you are finished, share it with your friends and family for an opinion, to make sure it is clear and makes the impact you were looking for.


3. Which are the best formats for an Interior Design portfolio?
Depending on your needs, you can choose a print or a digital format for your Interior Design portfolio. Bear in mind that on certain occasions a physical copy will be useful to attract the attention of your addressee. If you want to send your portfolio by email or wish to make it available on line, a digital format will suit your purpose perfectly. For example, you could add it to your website or share it on your social networks, such as Behance or in your Instagram bio. In this case you can use a downloadable .pdf format or a direct link.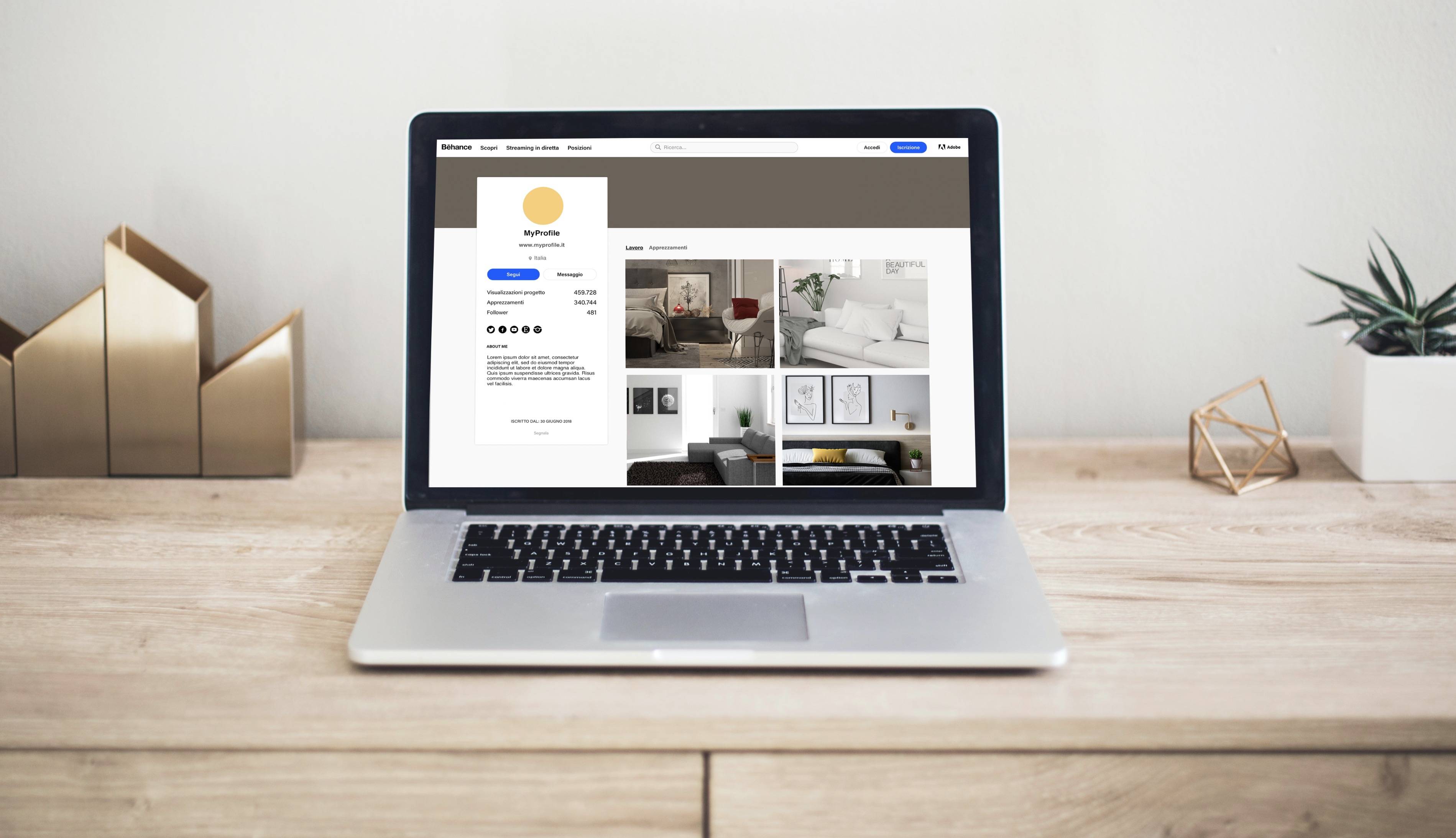 4. What to include in your portfolio.
Once you're clear about objectives and format, all you need to do is <strong produce the necessary content. As we have seen, your selection will depend on what you aim to obtain with your presentation. In general, we recommend you use different types of content, ranging from drawings to 3D renders, and even actual photographs. Use an interior design software such as ArredoCAD to design and produce realistic renders, and add photos and furnishing proposals to your portfolio. In this fashion, you will produce a versatile, original document and you will not run the risk of boring your audience. On the other hand, a good principle to follow is to find a central idea, a theme, a progression or a graphic palette to give your content a rational organization. Variety is welcome, chaos is not.



5. Which projects should you choose for your Interior Design portfolio?
In this case the answer is undoubtedly more personal. If you are taking your first steps and don't have many projects to your name, of course your choice will be more limited. Yet, this doesn't mean you should necessarily include all of your work. Always leave out the projects you aren't satisfied with: if they don't convince you, they will certainly not convince your audience. Rather, create new ones with 3D rendering or by tackling a room in your house or a friend's so you can also take the necessary photographs. If, on the other hand, you have quite a bit of experience, you can afford to choose not only your best projects, but the ones that represent you the most. For example, you could decide to focus on your personal style, your philosophy as an Interior Designer, and choose a specific niche of reference. In this case, too, common sense will be an excellent guide. If your projects are exceedingly monothematic or too distant from the client's interests, it would be wise to compromise and show some elasticity.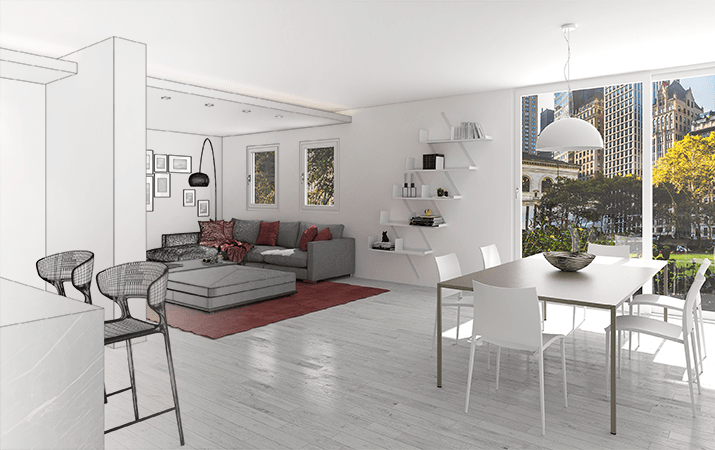 6.Use your projects to tell a story.
Similarly to choosing a central theme, storytelling might also be a good option for your portfolio. In Interior Design even more than in other fields, every project has a story. It is born from a client's idea or their wishes, it grows through your suggestions, it gradually takes form and, finally, it becomes reality. Make sure you include this type of content in your Interior Designer portfolio. Stories are pleasant to read, they attract the viewer's attention, and they transmit an idea of the work and the creativity behind a project. You can also use storytelling when talking about your personal growth, beginning the portfolio with an introduction and continuing by inserting technical data, a mood board, specific focuses on the project, the renders of all its phases, and a budget analysis.



7.Update your portfolio with new Interior Design projects.
Once you have created your portfolio, don't forget to keep it up to date. A portfolio dating back a few years is certainly not stimulating for someone looking to give you a job. Not to mention the fact that in a few years' time you might look back at your early work and no longer consider it adequate. So don't be lazy and don't be afraid to revise it every time it might be required. In this sense, a portfolio in digital format will certainly be easier to modify.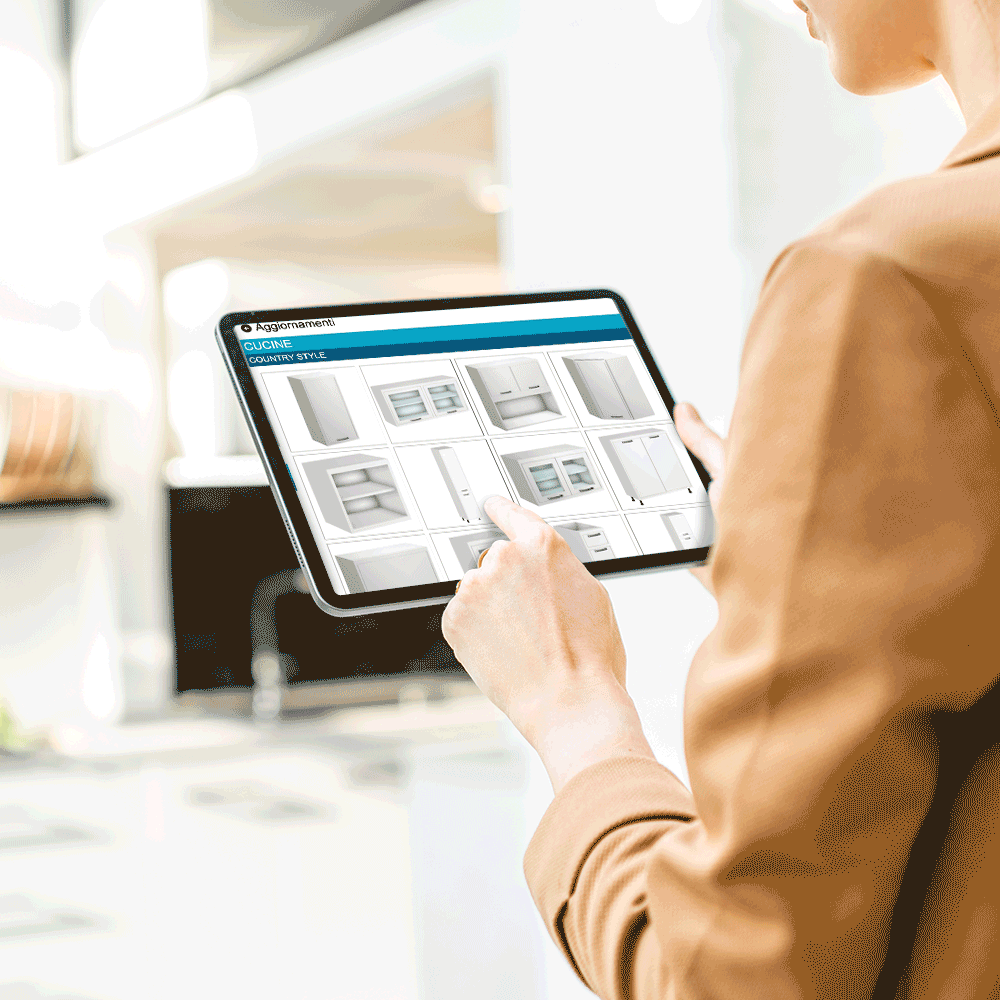 8.How to use ArredoCAD for your portfolio.
An advanced design software such as ArredoCAD will make your work much easier as it makes it possible to create very detailed 3D environments. You will be able to customize your projects with high quality renders and thousands of elements in different materials and colors, allowing you to present your clients with the best possible project. Not only can you create the locations and furnish them with the automatic insertion of all the top producers' furnishings, but your client will also be able to be immersed in the location thanks to a 360° Virtual Tour. Use this software to:
Create high quality images and renders.
Create classic and modern locations using more than 30,000 3D elements to express your style.
Present the project to your clients in every detail with 3D images that are much more immediate and easier to read than the usual blueprints.
Simulate furnishings with thousands of indoor and outdoor pieces by the best brands in the field, including the new 2021 catalogs, thanks to the software's increasingly advanced design features.
Visit our website to discover all the instruments that can help you create your Interior Designer portfolio.